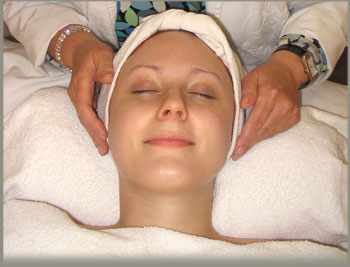 Skin Care Services & Treatments
Authentic Susan Perry Facial Our flagship service! Several awards and years later, it is still the most comprehensive, relaxing and effective facial available. This treatment includes exfoliation, aromatherapy, massage, steam, deep pore cleansing, balancing ampoule and mask. Completely customized for the needs of your skin type and present condition! Relaxation is further enhanced with a gentle hand massage. 80 min. - $ 110.
Junior Facials for teens. Teens will be instructed as to proper home care while being manually cleansed and hydrated through the customary steps of our award-winning facial process. After even a single visit, a teen's skin will be clearer and his or her confidence lifted.- 50 min. - $ 70.
Mini Facial We recommend this facial when time is of the essence! Enjoy the benefits of this treatment regardless of your skin type. Oily skin receives deep pore cleansing and exfoliation, while dryer and more sensitive skin receives necessary hydrating, and anti-inflammatory ingredients. Your facial is custom-made so that you receive the maximum results possible in this mini time frame. 50 min. - $ 90.
Specialty Facial This is a more specific and intensive facial. It may include: Collagen Mask, Grape Wine Chemical Peel, Pigmentation Correction, Firming Anti-Oxidant Anti-aging, Oxygen System and Mask, or TriPeptide Facial. A highly trained esthetician will advise you based on your skin type and overall condition. 80 min. - $ 135.
Gentleman's Comfort Zone Facial This facial improves skin quality and restores a youthful appearance. Men need emphasis on exfoliation and deep pore cleansing to clear the way for a perfect shave time after time. Eliminates irritation, redness, raised bumps and ingrown hairs. 70 min. - $ 100.
Glycolic, Lactic and Grapewine Treatments Mild, safe natural acid peels which reveal fresh new skin, encourage cellular regeneration and diminishe fine lines. $ 45 each. (a series of six may be recommended)
Back Facial 50 min $85
Hand Treatments $ 35.
Written by Susan C. Perry, a licensed esthetician and registered electrologist who has worked in the health and beauty industry for over 25 years. Additional edits by Pat Baker. © 2020 Susan offers these treatments at her Plymouth day spa.