Certified Esthetician
Makeup Artist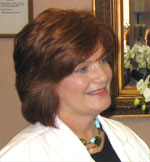 Susan is a skin care specialist and makeup artist who has worked in the beauty industry for 20 years. She is a graduate of Elizabeth Grady School of Esthetics, in Boston, with continuing education for 2 years in Europe, receiving certification from Dr. Schrammek's Institute and Janssen Products. She continually reviews the latest products and techniques for an effective skin care program.

She is a dedicated esthetician focused on providing expert professional care with facials, instruction on skin care routines and knowledge of the latest makeup trends to help her clients achieve and maintain beautiful healthy skin.
Appointments with Susan may be booked through Susan Perry Skin Care . . . Call 508.746.0220
Return to Skin Care Services